Mamechiyo Modern Styling with Mieko Ueda hair makeup at Anime North 2019
The founder/owner of mamechiyo modern, Mamechiyo and hair makeup artist Mieko Ueda attended the J-Fashion portion of Anime North 2019 in Toronto, Ontario, Canada.
I had the opportunity to attend panels hosted by the founder/owner of mamechiyo modern Mamechiyo and hair makeup artist Mieko Ueda, this year's gusts of the J-Fashion North contingent of Anime North 2019.

Anime North is an annual convention, held on the last weekend of May, celebrating anime and Japanese culture held in Toronto, Ontario, Canada. There are a variety of J-fashion related events including informational panels, fashion parties, and a fantastic fashion show. As a model for the street style kimono section, I was unable to attend the mamechiyo modern X Mieko Ueda portion of the show, although I did have a chance to see all the models up-close backstage. I was so excited to model for Mamechiyo's kimono styling panel on Sunday morning.

Source:https://www.animenorth.com/live/
About Mamechiyo & mamechiyo modern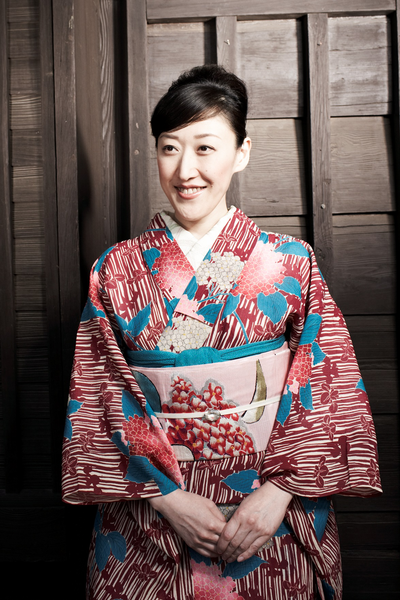 Mamechiyo
Mamechiyo Inc. CEO|"mamechiyo modern" Founder
Kimono artist / Stylist / Designer

"mamechiyo modern" is spreading kimono as a fashion suitable for modern daily life!


Combining the cute nature of kimono with its legacy as a Japanese tradition, mamechiyo modern creates highly original designs which transcend the boundaries of time, the east and the west.


As the leader of the greatest kimono revival after the Second World War, mamechiyo modern fascinates and inspires not only fashion-conscious young people but enthusiastic fans and connoisseurs across generations.


Additionally, mamechiyo modern has earned numerous achievements in styling, as seen in TV and magazines, etc. They have also participated in designing collaborations, such as costuming for stage productions and special company requests.


mamechiyo modern kimonos were exhibited and added to the permanent collection of the Victoria and Albert Museum (London) in 2012 and in 2015 the Van Gogh Museum (Netherlands) requested an official collaboration of design works and other products.


Currently, Mamechiyo is producing a multitude of creative photographic works that spread the message of kimono's beauty and impressive nature throughout the world.

✤ Selected Publications
- Mamechiyo's Kimono Modern, Marble Books, Chuokoron-Shinsha, Inc.
- Mamechiyo Kimono à la Mode, Shogakkan

✤ Links
About Mieko Ueda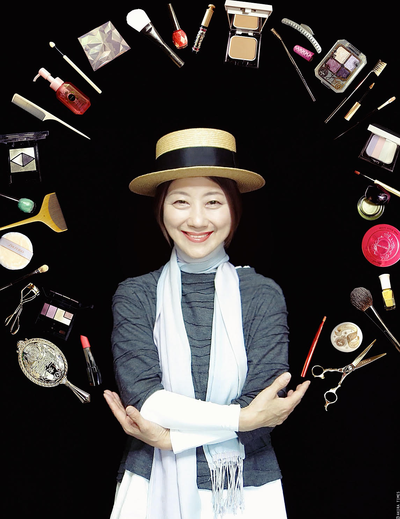 photo by Akira Sato
Mieko Ueda
Beauty Director / Hair&Make-up Aritist
Mieko Ueda STUDIO / MU CO.,LTD. President

After three decades working as a beauty director representing Shiseido Company, Ltd in client advertising, magazine and show production, Mieko Ueda decided to establish her own company MU CO.,LTD. and start working as an independent Beauty Director.


She introduced the segment "Rejuvenating Hair and Make-up Techniques" for the Japan Broadcasting Corporation's (NHK) Tameshite Gatten and Asaichi.


She was involved in establishing the hair and makeup school, SABFA, operated by Shiseido and has acted as an instructor and mentor for hair and makeup artists - including the top artists representing Japan.


She publishes a variety of creative works both in Japan and throughout the world which adhere to her own unique sensibilities. She has also received much attention in the Netherlands, Paris, Switzerland and London for her projects that fuse eastern and western style to revive the traditions of Japan into the present age.


Additionally, she has served as the chief of hair/makeup for the Rimpa School's 400th Anniversary Event's fashion show held in the Kyoto National Museum and for internationally renowned fashion designer, Junko Koshino's, fashion shows held in Poland, Spain, Russia and Pairs, which were covered on television.

✤ Selected Publications
- Hair Beauty+Fantasy by Mieko Ueda Up-style, Hyakunichisou
- IZANAGI special issue "the Journey of Creation" 40 year anniversary of Mieko Ueda Beauty history Mieko Ueda × Mamechiyo, KAMI no BUNKA SHA
- Master Hair Ironing Techniques, Josei Mode Co., Ltd.
✤ Links
Gothic Lolita....♡
In preparation for the panel, I had been asked to bring accessories in the theme of "Gothic Lolita". I brought several cameo brooches and pearl items as these were the most fitting items from my personal wardrobe.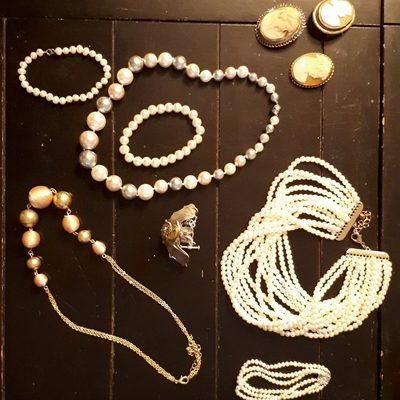 A selection of the items that I brought with me to the panel.
I was up bright and early on Sunday, dressed in a tank top and athletic shorts, to meet with Ueda-san's hair and make up team. The ladies were so welcoming and efficient. Very quickly the style took shape as several hair pieces were added to give me a French Rococo look. I had never had my hair or make up done professionally so it was quite exciting to watch the transformation. A large white braid was added to the other hair pieces along with a black and white stripped bow lending a very delicate effect.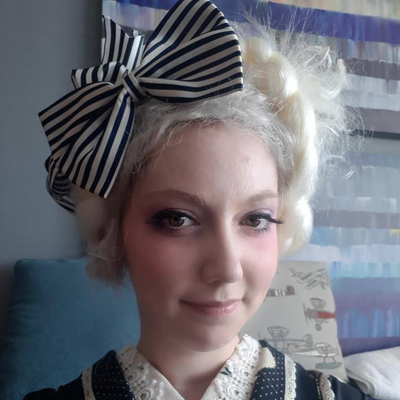 A selfie of the finished hair and makeup look.
With my hair and makeup done, it was time to get dressed!

Mamechiyo discussed during her previous panels advocating for wearing kimono as a daily item and so a lot of traditional kitsuke steps, like padding the waist and shoulders, were skipped. There was a moment of adjustment as my hips and backside are a little on the large side and we had to trouble shoot how to achieve the desired "tube" silhouette along with where my bunko-styled obi knot would sit.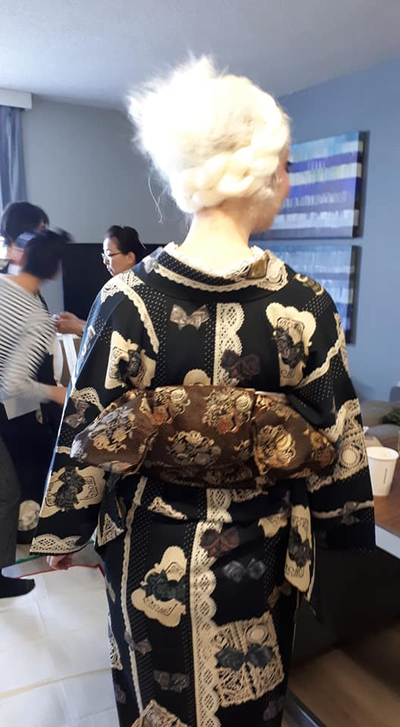 The back of my outfit with mamechiyo modern kimono and vintage maru obi before the panel.
Some small details of the original styling I really enjoyed, including adding lace over my juban collar. It added a nice feminine touch to the outfit. I was joined by Alexia Park of Ghost Girl Goods, who brought in some fun pop and Lolita accessories with her.
Kawaii Pop Style of kimono coordination♡.+*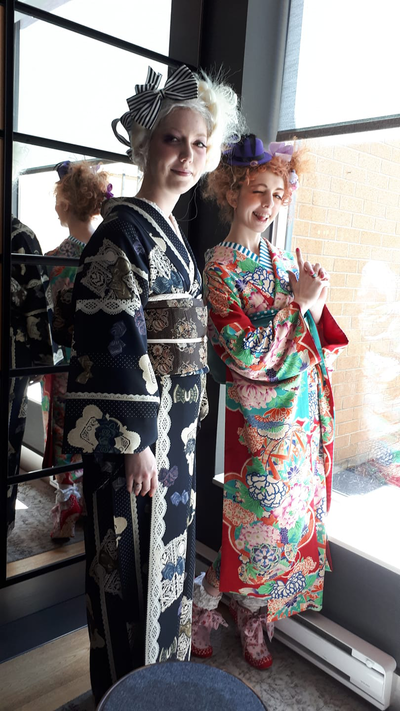 Myself on the left and Alexia Park on the right.
During the panel we learned how to add our accessories to our outfits, including adding jewelry, using brooches as obidomes and western style pieces such as the over skirt and lace shawl on my outfit and the faux fur stole on Alexia's. Mamechiyo emphasized throughout her panels during the weekend how comfortable kimono should be fun and fashionable, playing with colour, shape and accessories to create your own style.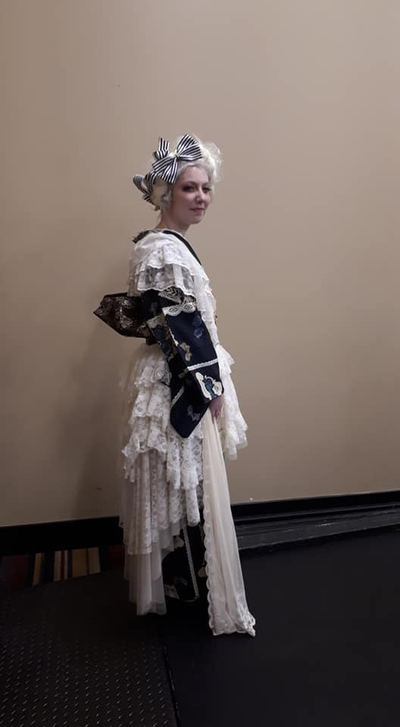 An image of me after being styled by Mamechiyo during the panel.
After the event....
After all of this it was time for a very quick set of official photographs before I had to rush to change for my own panel. I had never been undressed so quickly, with five ladies undoing my hair and outfit as efficiently as possible.

The whole experience was so much fun and I have already started to add some of the hair and styling tips to my own ktsuke including playing with colour and trying "bigger" hair styles. You can check out my own kitsuke for the following night's guest dinner below!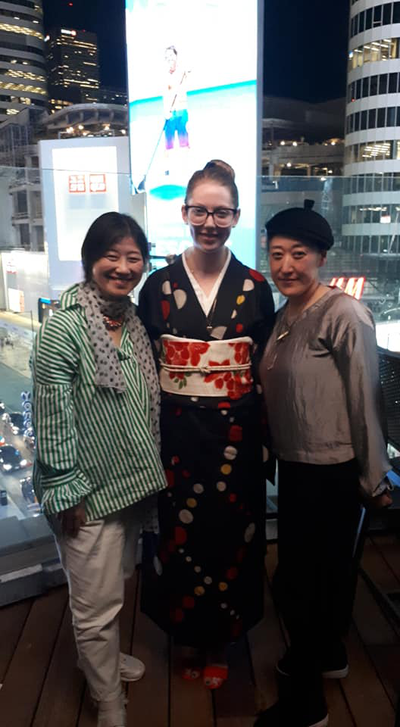 The guests of honour! Mieko Ueda on the right, myself centre and Mamechiyo on the left.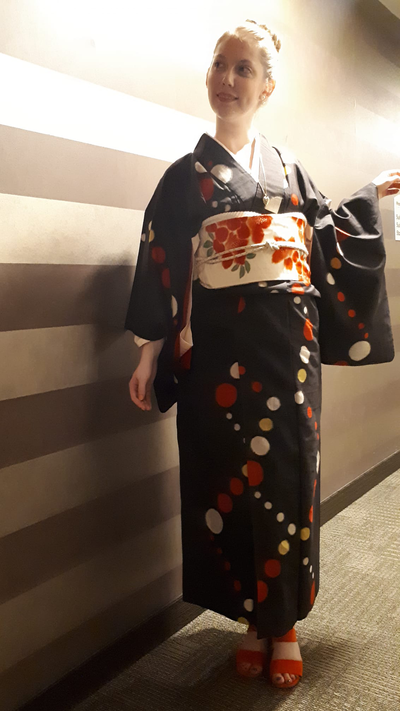 Close ups of my evening kitsuke!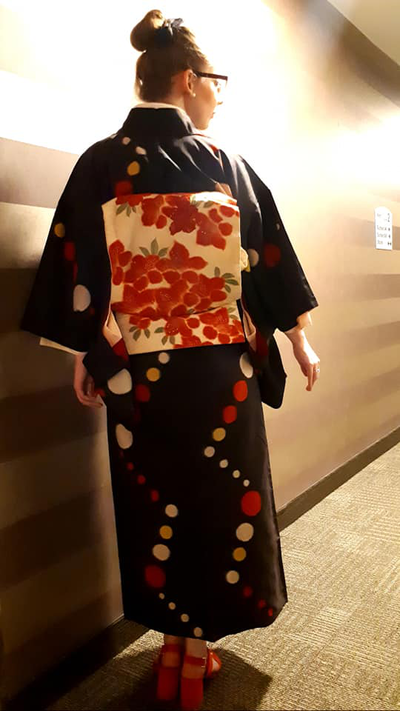 Did you enjoy my article?

Thank you for reading♡

Let's enjoy kimono fashion!
posted by

I am a kimono enthusiast from Toronto!